TRAMPOLINE DELIVERY | IT'S PREP TIME
Next article
The holiday season may look a little different this year, but we're doing everything we can to make your family's Christmas trampoline dreams come true.
LOCAL TRAMPOLINE DELIVERY AND INSTALL
If you live within 50 miles of the Best American Trampolines offices, then we have some excellent news! You qualify for FREE trampoline delivery and installation!
Keep in mind that the holiday season is our busiest time of year and while Santa may have an army of elves at his disposal, we are limited when it comes to elves. 😉 So, if you want your trampoline installed before Christmas, please request your delivery and install as soon as you've completed your purchase.
You can call our office after you've completed your purchase to schedule a time for your install and delivery. Please note that all installs are scheduled on a first-come-first-served basis and availability is limited.
TRAMPOLINE SHIPPING
We aren't all able to call the beautiful Dallas-Fort Worth Metroplex our home. 😊 Don't worry we've got all of our customers, even the ones who live outside of our local delivery zone, covered with FREE shipping on our Enclosed Trampolines. Believe us when we say that we wish we could deliver and install our trampolines at your home the same way we take care of our local customers.
For now, we'll have to rely on freight companies to delivery our American made trampolines to your home. Now if Elon Musk develops a teleporting device and assembly robots…we'll be the first in line for beta testing and will offer delivery and installation worldwide!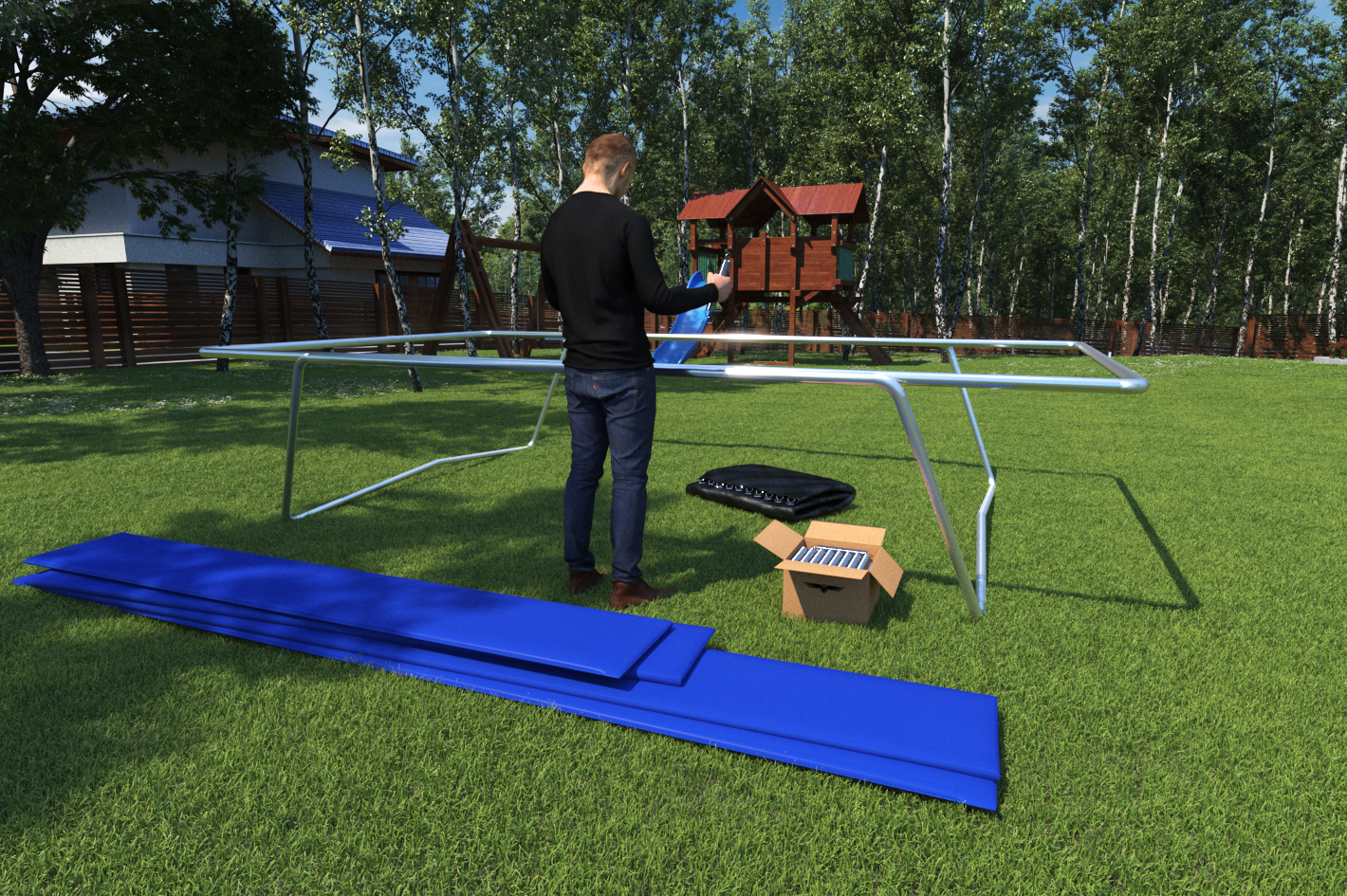 2020 HOLIDAY SHIPPING
Like a good Boy Scout, you need to be prepared and have at least one backup plan for all your holiday shipping plans this year. Delivery companies and well essentially everyone is busy during the holiday season, but delivery companies are really feeling the pressure this year.
Shipping companies are bracing themselves, planning, and doing their best to deliver your packages in time for the Christmas holiday. Unfortunately, this year has brought about what many experts are calling "shipageddon". Shipping companies like UPS and FedEx are expecting as many as 7 million packages a day to be shipped between Thanksgiving and Christmas this year. That a ship-ton of packages.
All hope isn't lost! With a little bit of planning ahead and a good backup plan, your trampoline will make its debut Christmas morning one way or another. The first piece of advice we have for you is to place your order early! Our trampolines are delivered in two large boxes and require at least two people to move them. Make sure that you place your order early and have help to move your trampoline from the curbside delivery location to its final destination or hiding place if it's a surprise. Learn more about what to expect when your Best American Trampoline is delivered here.
THE BACKUP PLAN
Now it's time for the backup plan! While there are a variety of ways to unveil your trampoline, it can be a little tricky to complete the big reveal if your trampoline is sitting on a truck in Houston and not in your backyard on Christmas morning.
The first suggestion we have is to use all those empty Amazon boxes and wrap the word TRAMPOLINE. The idea is to wrap each letter in it's own individual box, so "T" would have it's own box, "R" would have it's on box, "A" would…you get the idea. When your kid's open the boxes they will likely be a little confused at first but once they figure it out, they'll have a great time spelling out the word that reveals the big surprise.
If the thought of wrapping one more, much less ten more boxes is not at the top of your list, we have one more idea up our sleeve. Office supply stores like Staples often offer engineered, aka really big prints, for affordable prices. Take an image of the Best American trampoline you ordered to your favorite office supply store and request that they print out a large image of your trampoline. In an effort to make this process a little easier, we've complied high-resolution images of our trampolines here for you to download.
That's a wrap! We hope you have a very Merry Christmas and enjoy your Best American Trampoline!
Happy Jumping! 😊