PREPARING FOR YOUR TRAMPOLINE DELIVERY
The Boy Scout motto tells us to always be prepared. While we can't help you prepare for an upcoming camping trip or day at the beach, we can help you make sure that you're ready for your trampoline delivery. Read on to learn what you should expect on the big day.
FREIGHT DELIVERY
Do the words freight delivery give you a tiny bit of anxiety? You're not alone. While most of us have packages, groceries, fast-food, and even gourmet meals delivered to our homes regularly, we don't have items that require a freight delivery service often. Our trampolines are built to last with premium materials like American sourced steel that is heavy. The weight of our trampolines requires us to use a freight service for shipping and delivery. This means that your trampoline will be delivered in a large truck on a wood pallet, not in a Prius…not that there's anything wrong with a Prius! It's just that Houdini himself couldn't get our trampoline in a car that small!
WHAT TO EXPECT
You've checked the tracking information for the third time since you ordered your trampoline…you know yesterday…and see the magic words, ESTIMATED DELIVERY DATE. After a moment of excitement, you then ask yourself. Now what? If you haven't already heard from the delivery service you should soon. They will be calling to schedule a time to deliver your trampoline. If you missed the call or are like most of us and simply don't answer numbers you don't recognize, don't worry. The delivery service should leave you a voicemail requesting that you call them to schedule your trampoline delivery. It's important that you effectively communicate with the delivery service. You want to make sure that your trampoline is delivered in a timely manner, so you aren't charged storage fees by the shipping company.
Once you've scheduled the delivery time, you need to ensure that someone at least 18 years of age or older is present during the delivery. Whoever accepts the delivery will be required to sign for the items being delivered.
Remember how we said Boy Scouts are always prepared. This next part is important and could save you a lot of time and hassle if you live by the scout's motto…at least for today 😉. Unlike your favorite Amazon delivery agent who leaves your packages neatly stacked on your front steps, your trampoline will be delivered to the curb. That means that you are required to move the trampoline from the curbside delivery location to your backyard.
It's because your trampoline will be delivered curbside that we strongly recommend…wait let's rephrase that…we insist that you request neighbors, cousins, aunts, uncles, or generally anyone who you've helped move something heavy to help you move your trampoline boxes to your backyard. Remember you purchased a quality, American made trampoline. It's made with American made steel and that means it is heavy. Please do not try to move the trampoline boxes by yourself. Ask for help from someone other than the delivery driver. If you do ask the delivery driver to help move the boxes, don't be surprised if they respond with a polite "it's against company policy" response.
INSPECTION TIME
The time has come! You watch the delivery truck come down your street with your favorite uncle who, with a little bribing of a cold beverage, agreed to help you move the trampoline to your backyard. The delivery driver greets you and unloads the trampoline from the truck. You stand back and now understand why we insisted that you ask for help to move these boxes. Before you roll up your sleeves and start moving the trampoline boxes to your backyard, we recommend that you kindly ask the delivery driver to wait while you inspect the shipment for damages. This goes without saying…but we're going to say it anyway. Our trampolines are meticulously packaged and shipped via a reputable freight carrier. We simply do not ship trampolines in damaged boxes, but sometimes shhhh…it happens. That's why inspecting the boxes as soon as they are delivered is recommended.
During your inspection you want to look for damage to the packaging and ensure that two boxes were delivered. Opening the boxes prior to moving them to their final destination increases the chances that parts will go missing as they make their way to your backyard, so please wait to open the boxes for now. In the unlikely event that there is damage to the boxes or even more unlikely one of the boxes is missing, we ask that you complete the following steps.
Number One: Accept the delivery. The driver may suggest that you reject the delivery because it is damaged. It's important that you accept the delivery and allow us to take care of you. You are our valued customer and we want to make sure that you are taken care of as quickly as possible.
Number Two: Take lots of pictures of the damage in the delivery location and request that the driver note the damage.
Number Three: Let us know that your trampoline was delivered with damage. We will collect all information required and provide you with detailed information on how we plan to make things right. Scout's honor we'll make sure your family is enjoying their new trampoline as soon as possible!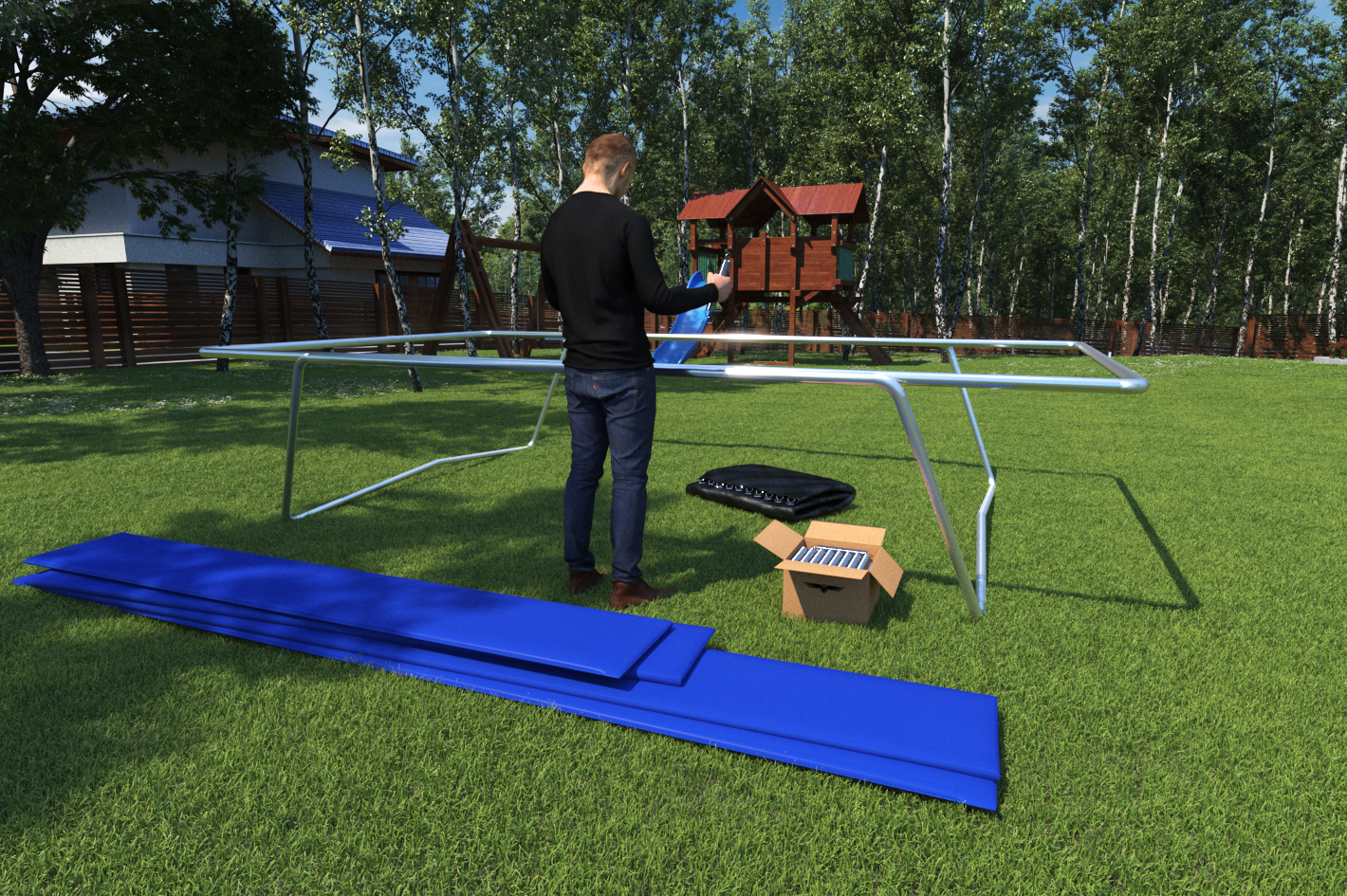 IT'S INSTALL TIME
Once you've completed the inspection and have safely moved the trampoline to your backyard, it's time to begin the assembly process. You will receive a product manual with your trampoline. We ask that you read through the entire manual before you begin the assembly process. We also recommend that you offer your favorite uncle…you know the one who helped you move the trampoline to your backyard…a second cold beverage and maybe a steak dinner. You'll need his help putting the trampoline together. Rest assured that Best American trampolines are a breeze to put together when compared to other backyard trampolines.
If you have additional question you can always find answers on our FAQ page. If you really get lost or are simply curious and want to know how thick our Texan accents actually are, reach out! We are happy to help!
Happy Jumping! 😊