Indoor Trampoline Rooms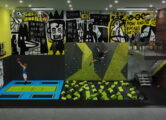 Next article
The big day has arrived! You've purchased the perfect trampoline for your family, and it's arrived at your home. The kids are unable to hold in their excitement and are literally jumping with joy.
As you gaze at the trampoline boxes and parts, you catch yourself dreaming about the memories your family will make, kids laughing and playing on the trampoline as you relax by the pool, extended family enjoying your backyard oasis, you know like Chevy Chase…in National Lampoon's Christmas Vacation. Anyone? No…Ok…Moving on.
Before you begin assembling your trampoline, we have a few tips and guidelines that will help with the assembly process and aid in ensuring that your family is creating memorable, Chevy Chase worthy, adventures in no time!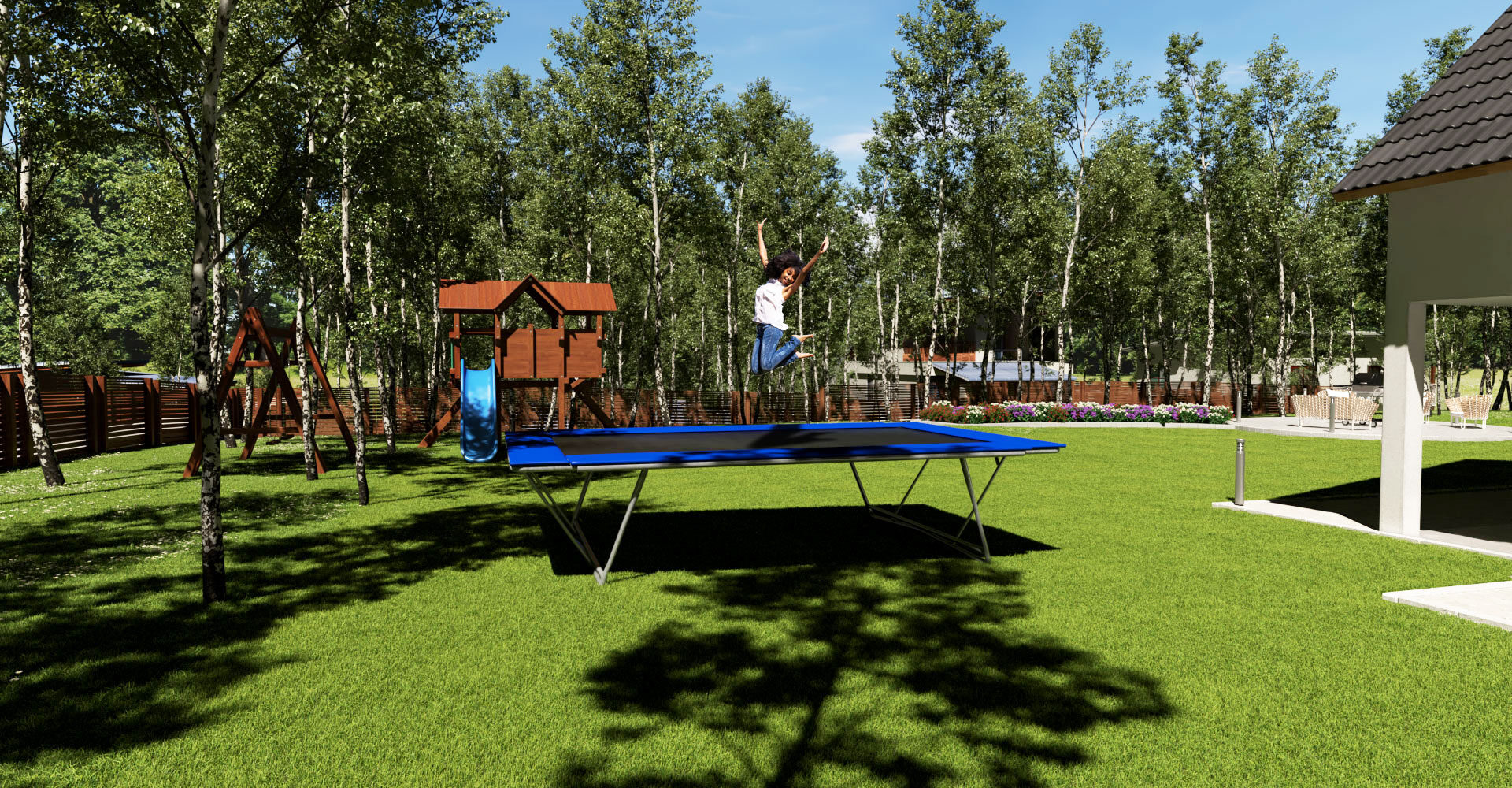 Choosing Your Trampolines Location
Choosing the ideal location for your trampoline is about more than aesthetics. Backyard Trampoline placement is an important decision that impacts the longevity and use of your trampoline.
When choosing the ideal location for your trampoline, we recommend that you start by looking for a spacious area that has at least 6-feet of clear space on all sides of the trampoline. You also want to choose an area that doesn't have overhead obstructions, like tree limbs, power lines, and other potential hazards.
The next consideration is finding an area that is free from slopes or hills. Level ground that absorbs the impact of jumpers, like grass or mulch, will help increase the life of your trampoline. We don't recommend placing trampolines on harsh surfaces.
While we understand that these surfaces are usually level, they are not impact absorbing and can lead to increased wear on your trampoline frame.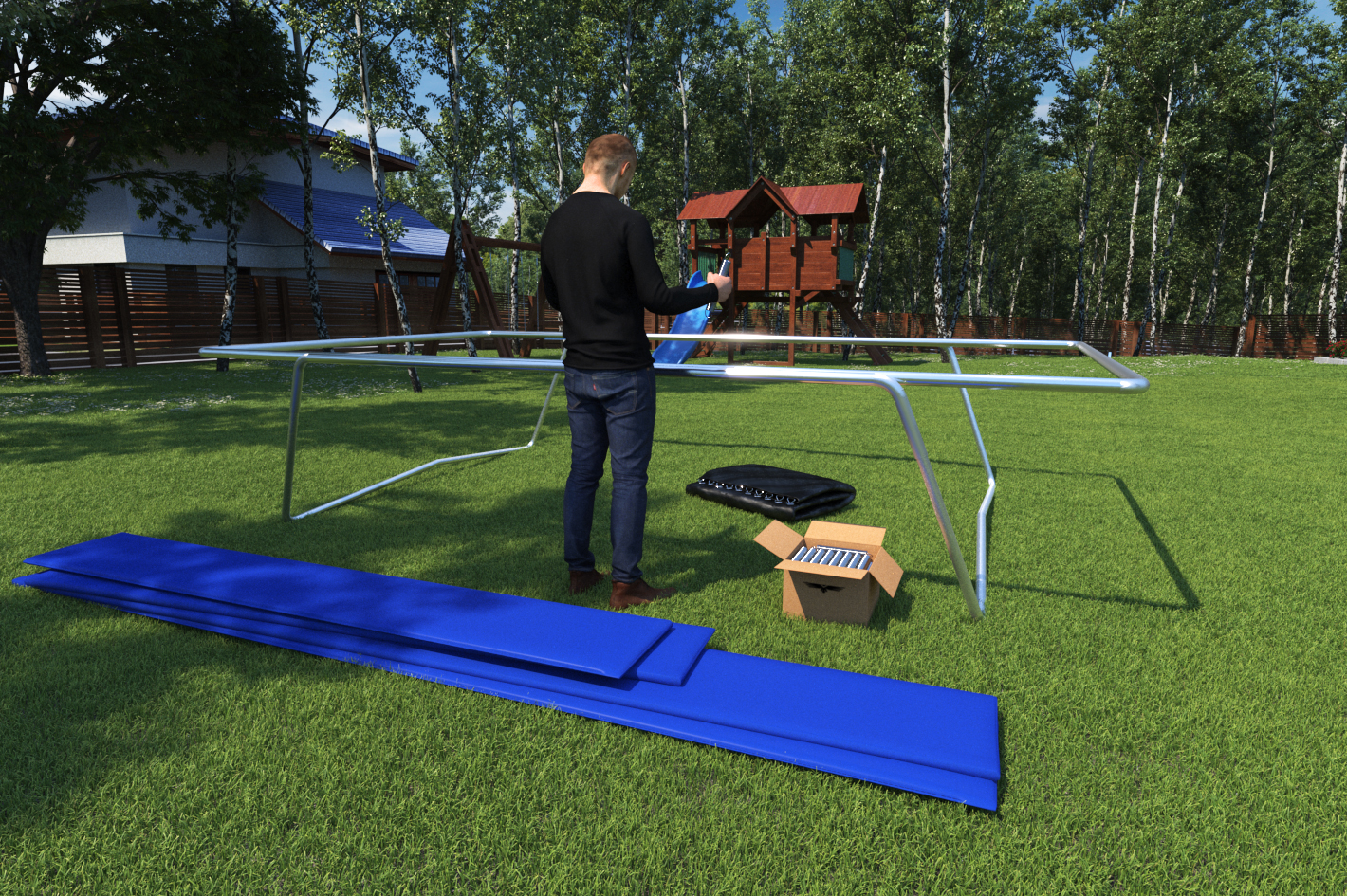 Four Hands Are Better Than Two When it Comes to Assembling Your New Trampoline.
Can our trampolines be assembled by one person? Absolutely! Will it be much easier and faster if you have a second set of hands to help with the assembly process. Definitely!
We proudly produce heavy duty American made trampolines that are built to last. A second set of hands will save time during the installation process and we can almost guarantee that your back will thank us later.
Not to mention, this is a great opportunity for your neighbor who asked for a "couple of hours" of your time to help them assemble their grill, furniture, etc. to return the favor.
Trampolines Best Practices & Supervision
You've completed the assembly of your trampoline! It's placed in an ideal location and because you asked for help from your favorite neighbor it was completed in record time! Before you start enjoying your trampoline it's important to go over proper trampoline use.
Guideline number one applies to Y.O.U. It's important that a knowledgeable adult supervises all trampoline use, at all times. Yes. This applies even if your trampoline has an enclosure net. Educating jumpers on proper use and keeping a watchful eye on them when they are on the trampoline helps reduce the risk of injuries.
The second guideline that should be enforced is one person on the trampoline at a time. Yep. We said it and we'll say it again. One person on the trampoline at a time.
Here's the truth on why the "one person at a time on the trampoline" guideline is extremely important. When more than one person is on a trampoline it increases the likelihood that the jumpers will literally butt heads. In all seriousness, two or more people on a trampoline at the same time increases the risk of injury and should be prohibited.
Additional tips, assembly instructions, information on proper trampoline usage, and more can be found in your Best American Trampolines product manual. Which you already knew, because you read the entire manual before you assembled your trampoline. 😉 Happy jumping!
Contact us today and learn how we can help you jump in style on an american made trampoline from Best American Trampolines.